On September 16, the iPhone 14 will be introduced, but until then, we can assume information from unofficial sources. Two sets of benchmarks for the A16 Bionic, which powers the iPhone 14 Pro and iPhone 14 Pro Max, were released last week. Today, more benchmarks were leaked, and they give a more complete picture.
The Antutu results for the iPhone 14 Pro and Pro Max were published on the Chinese social networking site Weibo and made public by MySmartPrice.
These are the top-of-the-line models with 1TB of storage and 6GB of RAM, according to the post.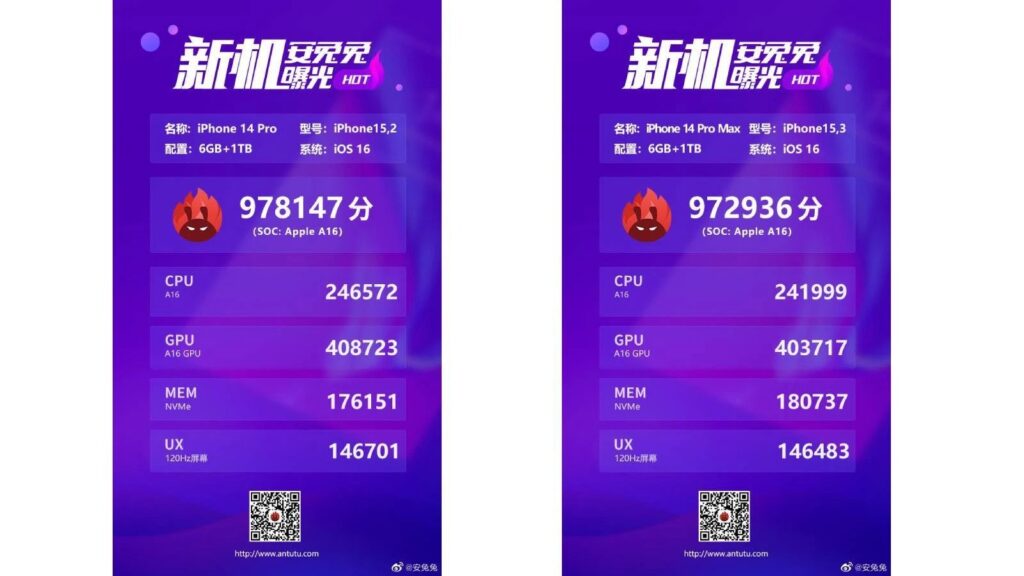 With a combined score of 978,147 for the iPhone 14 Pro and 972,936 for the 14 Pro Max, the pair outperformed the iPhone 13 Pro tandem by about 18.8%.
In comparison to past Geekbench scores, the CPU performance has increased by almost 17 percent, which is a more encouraging outcome.
As a result of the A16 Bionic's much more advanced 4nm processing technology compared to the A15 Bionic's 5nm process, we anticipate more than a small improvement in performance.
The Antutu result indicates a 28% improvement in GPU performance, which the post claims to be the biggest GPU performance increase in recent years. That's not always the case, though, as a test performed last year showed that the GPU in the A15 Bionic was 52% better than that of its predecessor, albeit that test was conducted in a different manner, so the findings cannot be fairly compared.
The basic conclusion is that Apple appears to be focusing GPU improvements at the moment, likely because the CPU is already fast enough and the last two generations of iPhone Pros had numerous changes that were geared at graphics, such as a 120Hz screen and additional camera hardware and functionality.
It's kind of ironic that while there was a lot of fuss surrounding Samsung and AMD's GPU collaboration, the GPU didn't quite live up to the hype, while Apple has covertly focused more emphasis on its GPU, and it seems as though those efforts are beginning to bear fruit.
The A16 Bionic has two high-performance Everest cores, four high-efficiency Sawtooth cores, and five additional CPU cores. According to Apple, this makes the A16 Bionic's CPU 40% quicker than high-end CPUs powering the finest Android smartphones. It also has a 5-core GPU with 50% higher memory bandwidth.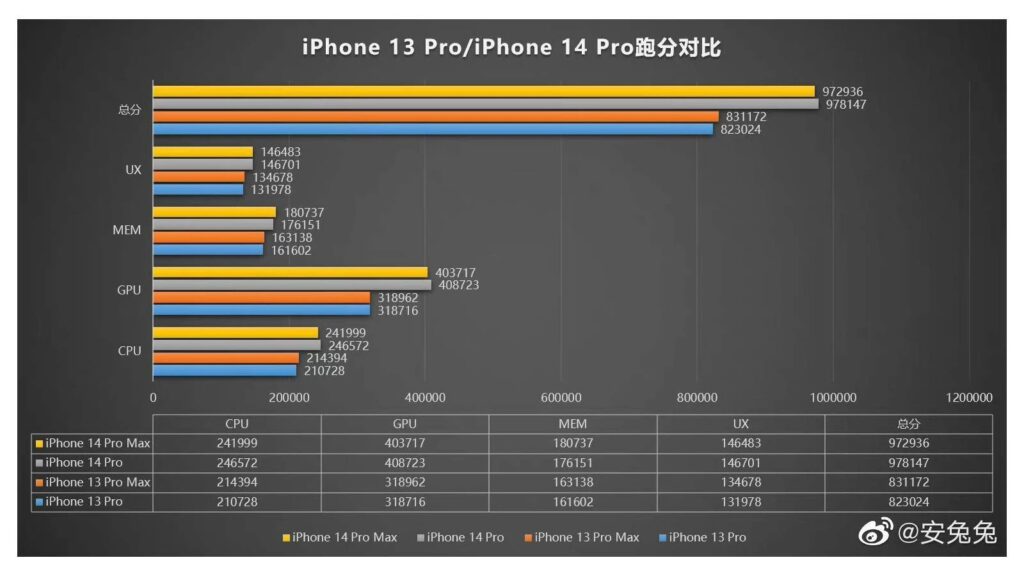 It's important to note that Antutu utilizes different testing methods for Android and iPhone phones, making cross-platform comparisons pointless.
Additionally, even though benchmark scores are used to evaluate performance, they are more useful for determining the quickest theoretical performance rather than having a direct correlation to user experience.
Despite the fact that Apple leads the majority of SoC benchmarks, it is best to avoid making too much of these results. Nevertheless, AnTuTu is a comprehensive system benchmark, and it's fantastic to see that theoretical capabilities have increased.
Source: Phonearena